2009 Gwangju Design Biennale exteriors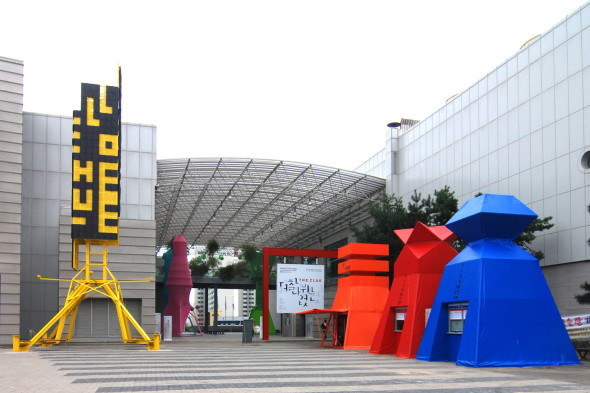 © MOTOElastico
Searching for clues [general concept puzzle]
We have been exploring Korea for a very long time: with the help of books, clients, colleagues, friends or the 1995 cc [996 + 999] of our motorcycles we tried to navigate through Korean culture at all levels. We commuted from eternal monuments to ephemeral trends, from crude business to passionate art, from cheap stalls to luxurious venues, from history to everyday life.
We applied our ingenuous curiosity to all we found on the way, with the purpose to discover something unique: a clue that could help us to catch it, and at the same time to describe it to our friends.
Over the years we collected many clues, so once we were invited to the Gwangju Design Biennale, we laid them down, as a pirate would do with his hidden treasure.
It became a sort of puzzle, our personal cross section of Korean culture in this very moment: some of the pieces fitted well our needs for the project, others required some reshaping, many were discarded and thrown back into the pile.
The few that survived this natural selection became the foundation for our space design concept. A sequence of "signs" where original clues have been regenerated by the Dub* manipulation style: a selective remix that enhances the rhythm of the original structure, adding contemporary accents and technologies.
* Dub is a form of music, which evolved out of reggae in the 1960s. The dub sound consists predominantly of instrumental remixes of existing recordings and is achieved by significantly manipulating and reshaping the original tunes.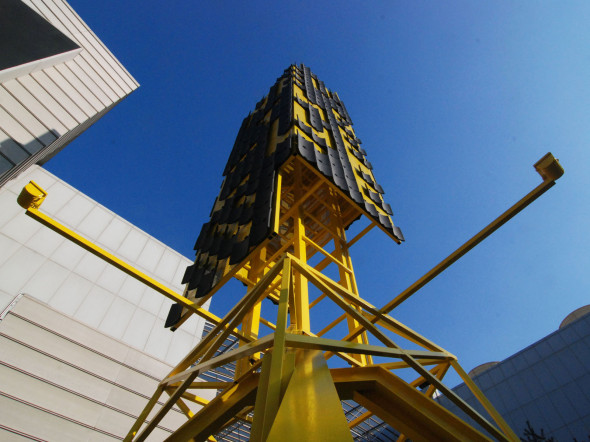 © MOTOElastico
Kiwa screen / totem kiosks
Kiwa [black clay tiles] are a powerful symbol of Korean traditional architecture. The uniform surface of black roofs in Hanok villages is an image well nurtured in the memory of all Koreans. Kiwa belong to the past and very rarely have been used in contemporary forms. We propose an update for this operative system. We use kiwa as pixel on a low-tech screen at the entrance of the Biennale.
Kiwa are the first updated clue visitors will encounter in their long exploration path throughout the Biennale. The clay screen interface will display messages that will periodically change during the event.
© MOTOElastico
Totem Kiosks / Design weapons
Temporary street stalls are part of the urban landscape in Korean cities. They usually come in humble shapes and materials, but they carry a lot of spice and personality. We use this clue for the outdoor facilities of the Biennale, but we boost their formal appearance to match their spicy personality.
We stretch them toward the sky like totem poles and prepare them for launch as peaceful design cruise missiles. The aim is space-discovery, but the target is classified.
Gallery
Credits
progetto > MOTOElastico [Simone Carena | Marco Bruno], PARANG [Hyosun Chang]; con Christoph Eichberger, Minji Kim, Jackie Sunwoo, Vivien Serveau, Davide Barreri
localizzazione > Gwangju (Korea)
tipologia >allestimento temporaneo
superficie > 6000 mq
cronologia > 2009
crediti fotografici > MOTOElastico