Happolice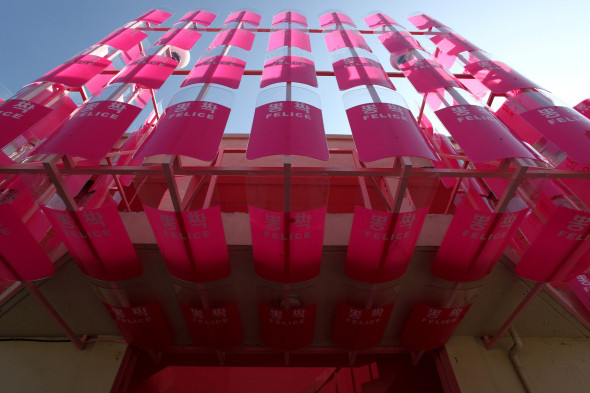 © Lee Jong Soo
Mutatis mutandis shield
This project is a cooperation between MOTOElastico and artist Oksang Lim and was part of the group exhibition "Beginning of a New Era". The show was organized by the Seoul National Museum of Contemporary Art at GIMUSA, the former Korean Military Command compound, which will be soon converted into a prestigious art venue. The GIMUSA main building dates back to the Japanese colonial period and is part of Seoul modern historic heritage; after the Korean War, during the military rule, it served as Police Headquarters. Until few years ago the all area used to be highly secured and completely off limits and it is still full of dark memories that needed a vigorous update.
Our project aimed to radically transform the drivers' facility, bound to demolition, offering an alternative and optimistic scenario for the dramatic confrontations between police and demonstrators.
The outside walls of the 2-storey building have been completely removed and the all interiors, [furniture, lights, walls and toilets] painted pink. The shields color has been modified [from blue to pink] and the writing altered: from 경찰 [kyung chal - police] to 뽕짝 [ppong tchak - polka] and from "police" to "felice" [happy in Italian]. Police Police becomes Happy Polka: the dramatic image of a macho police squad in anti riot gear is turned into a joyful formation of enthusiastic dancers. The shields are now used to protect art and architecture from demolition and speculation while the feminine Pink color, in clear contrast with the original dark police gear, reveals the live fleshy life taking place within the chopped building.
Once the 112 altered pink police shields were applied onto the main façade, the gloomy military building turned into a happy performing venue used for concerts and events.
Gallery
Credits
progetto > MOTOElastico [Simone Carena | Marco Bruno], Lim Oksang; con Minji Kim, Vivien Serveau, Davide Barreri
localizzazione > Gimusa, Seoul (Korea)
tipologia >allestimento temporaneo
superficie > 900 mq
cronologia > 2009
crediti fotografici > Lee Jong Soo, MOTOElastico